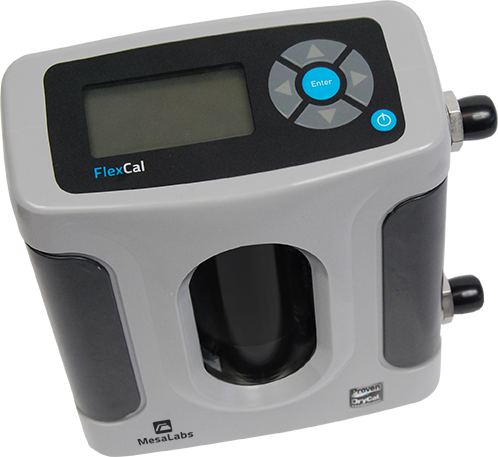 FlexCal Click link to view instrument close-up

The MesaLabs Bios DryCal FlexCal series calibrator is a precision primary flow calibrator comprised of three models with flow ranges from 5 ccm to 50 LPM, capable of volumetric and standardized flow measurement accuracy of 0.5% of the reading. An economical option for small analytical laboratories, research & development organizations, manufacturing and calibration labs that may not need the 0.15% accuracies of the MetLab 800 series calibrators. Perfect, for instance, for use in calibrating industrial mass flow meters.
USB connectivity
Flow ranges from 5 ccm to 50 LPM
Quick start operation
Graphical LCD display
User-selectable flow units and time intervals
The FlexCal is small, easy to carry and ready for even the most demanding of applications. When using the Mesa Labs FlexCal, you are guaranteed high accuracy with high confidence without the use of soap bubbles, timers, or heavy mercury provers. Quick start operation Graphical LCD display user-selectable flow units and time intervals.
A versatile, push-button flow meter, the FlexCal is a primary flow standard which enables the user to accurately calibrate a variety of instruments while maintaining an ISO 17025-traceable audit trail.
MesaLabs DryCal FlexCal Overview
Accuracy

Standardized or Volumetric Flow: 0.5%
MesaLabs is a fully accredited ISO-17025 facility with a 0.08% Scope of Accreditation for gas flow by NVLAP of NIST.
Integrated temperature sensors and pressure transducers placed directly in the flow stream for optimum standardized results recording
Flexibility
Choose between volumetric or standardized flow units – (mL/min, L/min, cc/min, cf/min)
Include up to one hundred readings in a group average
Take individual readings, continuous hands-free readings, or set to read in time intervals anywhere from one minute to sixty minutes between readings
Software:
The DryCal® Pro software is available for the FlexCal with an integrated USB PC interface for easy transfer of flow data to a text file, with automatic recording and graphing of flow measurements. These records can also be easily opened in a variety of off-the-shelf database applications, including Microsoft Excel or Access.
Specifications




| | |
| --- | --- |
| | FlexCal Specifications |



Size
5.5"H x 6"W x 3"D
140 mm x 150 mm x 75 mm
Weight
29 oz. / 820 g
Flow Ranges


FlexCal-L Low Flow
5 to 500 ccm
FlexCal-M Medium Flow
50 ccm - 5 LPM
FlexCal-H HighFlow
0.5 - 50 LPM
Accuracy
At gas pressure of 760 mmHg, gas temperature of 25°C with standard temperature set to 0°C.

Standardized
Volumetric

0.5% of reading
0.5% of reading
User-Selectable Measurement Units
Volumetric Flow
mL/min, L/min, cc/min, cf/min
Standard Flow
smL/min, sL/min, scc/min, scf/min
Pressure
mmHg, PSI, kPa
Temperature
ºC, ºF
Approximate Time per Reading
1-15 seconds
Gas Compatibility
Use with non-corrosive, non-condensing, non-combustible gases, less than 70% humidity
Flow Modes
Suction or Pressure
Measurement Cell Style
Integrated
Temperature & Pressure Sensors
In the flow stream
Press: 3.5 mmHg (typical), 7.0 mm (max)
Temp: 0.8 °C (typical) 1.3 °C (max)
Reading Styles
Single (manual), Continuous or Burst, with averaging function user-selectable from 1 to 100 measurements
AC Adapter/Charger
12 DC, >250 ma, 2.5 mm, center positive
Battery System
6V rechargeable, sealed lead-acid, 6-8 hours typical operation
Battery Operational Time
3 hours backlight on, 8 hours backlight off
Pressure & Suction Fittings
1/4" Swagelok® compression fittings on Low & Medium Flow Models, 3/8" on High Flow Model
Warranty
Instrument: 1 year, Battery: 6 months
Storage Temperature
0-70 °C
Ambient Humidity
0-70% - non-condensing
Operating Pressure
(Absolute) 15 PSIA Max
Display
Backlit graphical LCD
Data Port

USB (for use with DryCal Pro software)
Data Cable
1 meter (FlexCal Data Port to PC USB port)
Protective Case
Pelican case available
Laboratory Accreditation
Instruments are manufactured and calibrated by MesaLabs accredited to the ISO 17025, ANSI Z540, and NIST Handbook 150 standards. Traceability to the International System of Units (SI) and NIST is verified by accreditation to the ISO/IEC 17025.
Instrument Certification
RoHS and CE Compliant

MesaLabs_Bios_FlexCal_Calibrator_Brochure

MesaLabs_Bios_FlexCal_Calibrator_Manual
| | |
| --- | --- |
| | MesaLabs FlexCal Series Calibrator Kit Options & Pricing |





The FlexCal Includes: Instrument, 100-240V AC Power Adapter/Charger, USB Cable, (1) Plastic Leak Test Cap, NIST-Traceable Calibration Certificate, Manual, Swagelok® fittings (models L&M, ¼"; model H only, 3/8") and instructions for downloading the free DryCal® Pro Software. Optional Pelican cases are available.





* Calibrators come standard with US chargers
Adapter plugs available for use in Australia, UK or Europe
For each additional plug add $5.75

Brandt instruments, Inc. are the distributor for MesaLabs calibrators only in the US


Overseas customers please contact your local distributor for pricing which includes international shipping charges, import duties and local taxes.

Part Number

Description

Flow Range

US $ Pricing
FlexCal-L
FlexCal Low Flow
5 to 500 ccm

$6,400.00

FlexCal-M
FlexCal Medium Flow
50 ccm to 5 LPM

$6,400.00

FlexCal-H
FlexCal High Flow
0.5 to 50 LPM

$6,400.00

Download pdf Purchase Order Form
Download Word Purchase Order Form

Brandt Instruments Web Privacy Statement

| | |
| --- | --- |
| | MesaLabs FlexCal Accessories, Software, Hardware & Case |
Part #

Accessory

Description

Pricing in US$

100-222

Adapter/Charger Universal

Universal 100-240V, 12 VDC; single charger for use in multiple countries. Comes with one plug configuration of your choice: U.S., U.K., European or Australian plug configuration. For additional plugs, see part 100-215.

$64.00

100-215
Adapter/Charger Plug
For use with universal adapter, additional plug configurations for UK, Europe or Australia, please specify

$10.00

100-406
Leak Test Plug
Leak test plug to fit 1/4" Swagelok« fitting, models L and M

$21.00

100-407

Leak Test Plug

Leak test plug to fit 3/8" Swagelok« fitting, FlexCal model H

$21.00

100-411


Fitting, Barbed

3/8" Swagelok« barbed fitting, FlexCal H

$52.00

100-429
Ferrule
3/8' Swagelok« ferrule, FlexCal H

$11.00

100-432
Swagelok® Reducer
3/8"Ł Swagelok« to 1/4'Ł Swagelok« reducer, FlexCal H

$44.00

100-445
Ferrule & Nut
Swagelok« Nut and Ferrule set 3/8" for FlexCal H

$21.00

100-420

Tubing by the Foot

Tygon, laboratory grade, 1/4" ID, 3/8" OD; flexible; kink, pinch, chemical and heat resistant. Flexible tubing for use with barb fitting. Please specify length.

$8.00
per foot

DryCal® Pro Software

DryCal® Pro Software is available at no charge from the download site at:

No Charge

100-451


Pelican Case

Pelican heavy duty case with custom foam; fits 1 FlexCal calibrator and accessories

$220.00


US List Pricing effective January 1, 2019. Subject to change without notice.

Download pdf Purchase Order Form
Download Word Purchase Order Form


Terms for Instrument and Accessory Returns:

NOTE: Any returns will incur a 30% restocking fee on the list price of the item. To return any instruments or accessories you must request a Return Authorization number prior to returning anything to the factory for credit. This Return Authorization number must be prominently displayed on the outside of the shipping box. All products returned to MesaLabs must be sent freight pre-paid, in new condition and in the original cartons with all unopened software, accessories and manuals. The sender is responsible for any carrier loss or damage.




Front View

Top View

Return to Brandt Instruments
For more information Email


Brandt Instruments, Inc.
18568 Oak Grove Parkway
Prairieville, LA 70769
1-800-337-6291
Phone: 225-673-6776
Fax: 225-673-6725



Copyright © 2002-2019 Brandt Instruments, Inc.