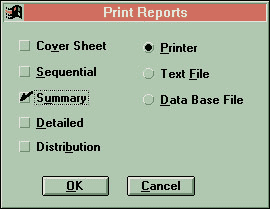 Reporting Options
The Report Generation Software provides a variety of reporting options for presentation of lead paint inspectionresults. The graphic depicts the standard reports available.
A significant feature of the RGS is the automatic preparation of a "Summary Report", which identifies all measurements equal to or greater than the local regulatory action level. This gives inspectors and their customers a clear and immediate understanding of areas which may require action. In addition, the HUD reporting requirements involving inspection combination and component statistics are fully integrated with the LPA-1 analyzer RGS program.
Report Descriptions

Cover Sheet:

The Job Cover Sheet allows the inspector to enter specific information about the inspection site and the customer. While most of the items on the sheet are entered by the inspector, the Action Level, the Report Job Number and, the Serial Number of the analyzer are taken automatically from the data downloaded from the LPA-1.

Sequential Report:


This report lists all the readings, which have been processed in exactly the order in which they were taken in the field. The Sequential Report, as well as the Summary and Detailed Reports discussed below, contains all of the location and paint condition information that has been entered.

Detailed Report:

In this report the readings are recorded and segregated first by room number and then by type of structure.
Summary Report:
Only positive readings or averaged sets, which have a lead value equal to or greater than the preset abatement level are shown (i.e., the actionable items).
Distribution Report:
A summary report by component type and findings required by HUD for multifamily inspections. This report provides a summarized listing of all structures analyzed in a particular job. Once all the inspections are completed, the software can be set to merge all the individual unit records and provide a summary classification of all the components examined. It details the total number of readings taken on structure types and breaks out the percentage of Negative and Positive readings from the total.

Sample Report Download
The Report Generation Software, as well as every other PROTEC Instrument Corporation products are backed by the highest level of support, with on-call help & free upgrades of the latest software release. No other system provides the flexibility, speed, and the level of productivity that the customers have come to expect from PROTEC Instrument Corporation's products and RMD Instruments.